Hillcrest Structural Ltd are proud to announce, that we have joined a large number of companies, to pledge our commitment towards the People Matter Charter 2021 and proud to display our badge awarded from the Supply Chain Sustainability School.
In 2018, the school brought several partners together to identify what an organisation should have in place to treat people responsibly. As a result of this work, eight commitments were produced that signatories and their supply chain should be able to evidence, if they truly believe 'People Matter'.
The commitments apply to clients, principle contractors, labour agencies, subcontractors and suppliers – in effect, if people are employed and managed, then these commitments should be evidenced.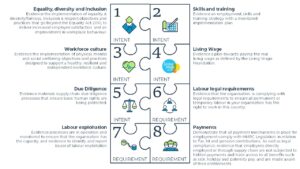 The Supply Chain Sustainability School background for the Charter is:
Construction accounts for 6.4% of the UK's GDP and employs around 2.4 million people. This focuses purely on the UK, but with materials being sourced from every corner of the globe, the affect the industry has on individuals all over the world is vast and sometimes hard to comprehend.
The industry is resource heavy, whether it's materials, plant or people. The excellence we have in the UK comes from bringing all these resources together to produce great examples of construction output, be it a new railway, new homes, or facilities for our healthcare or education.
Margins for any organisation in the supply chain are being squeezed and there is a tendency to look at resources to squeeze costs down further and make projects more profitable. However, with every penny eliminated from cost base and diverted to the bottom line, there is growing recognition that there are increasing pressures on our most valuable resource, namely people.
It is estimated that the industry needs 157,000 new entrants by 2021 in order to meet various construction pipelines. The industry reputation is poor, with examples of bad practice relating to wages, discrimination, bullying, late payments, and conditions like working in cold and wet conditions. Unsurprisingly, it is a challenge to persuade the newer generations that this industry is attractive.
However, this reputation is a partial view and somewhat imbalanced. Whilst profits always remain tight, there has been significant progress to address issues relating to recruiting, managing and developing people up and down the supply chain.